Last Updated on March 18, 2023 by Tabraiz
PDF (Portable Document Format) file formats are widely considered a common means of transferring data for various purposes. This versatile Adobe file format allows users to exchange and present data conveniently and securely. However, whether you are a student or an employee, you find the need to edit PDF files as a part of your job. There are several PDF editors available out there that make editing PDF much easier.
Here we will introduce you to the best of all, one that can be called an all-in-one solution to all PDF-related issues.
Does Windows 10 Have a Free In-Built PDF Editor?
Unfortunately, despite having lots of features, Windows 10 still lacks the tool for PDF editing. You can view PDFs with the built-in Microsoft Edge browser, but it doesn't enable editing text. However, no need to worry, as there are lots of PDF editing tools available for Windows 10. Let's have a look at the best of them!
UPDF — Best PDF Editor for Windows 10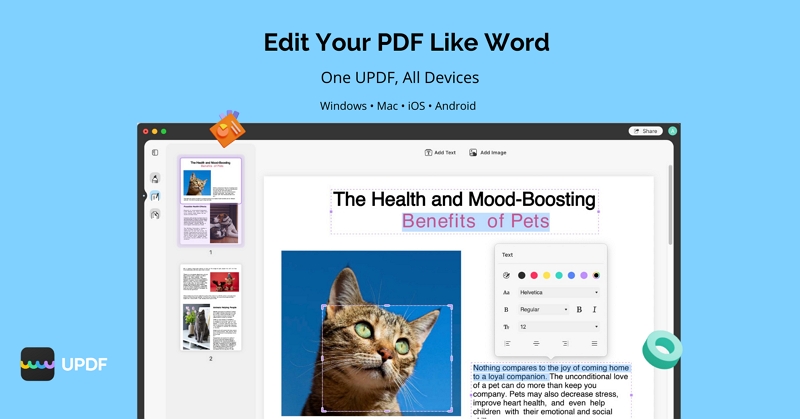 To summarize in a sentence, UPDF is an ultimate all-in-one solution for all of your PD-related issues.
What is UPDF Editor?
UPDF is best known for being the handiest PDF tool with countless features. It's not only for Windows (7 and above); you can also use this amazing PDF tool on Mac (macOS 10.14 and above), iOS ((14.0 and above), and Android (5.0 and above). You can surely call it a versatile PDF tool with a wide range of compatibility!
Whether you want to view or annotate PDF, edit it, convert, protect, or organize it, UPDF got you covered!
Key Features of UPDF
Some PDF editors for windows 10 are missing on important key features, and one that has them all is out of the reach of users. However, understanding the situation and the need of the users, UPDF has come up as an ultimate solution, being the best PDF editor for Windows 10.
1. View and Annotate PDF
UPDF enables users to view PDF in different display modes; single-page view, two-page view, scrolling, and two-page scrolling. You can also view multiple PDFs at a time. It makes navigating through the PDF easier; using the toolbar, you can zoom in and directly jump to the first and last page. In short, it helps you read the document conveniently.
Want to annotate PDF; UPDF got you covered this time too! With it, you can add comments using a typewriter, sticky note, or text box to suggest an edit or to express your point of view; it offers the option to delete the comment if you want to. Moreover, you can also add text markups; highlight, strikethrough, and underline text.
2. Edit PDF
Whether you want to edit text or images, you can do both with UPDF. It enables you to add, delete, replace, and change font size, color, or style using the UPDF. Just go to the editing mode and begin using this incredible tool for editing your text!
It also enables you to add images and replace, delete, or rotate the previously edited ones. You can also extract images from PDF using UPDF. Believe doing all this is extremely easy due to the user-friendly interface of the UPDF.
3. Convert PDF
This best PDF editor for Windows 10 allows its users to convert PDF files into 14 different formats, including Word, Image (BMP, JPG, PNG, GIF, TIFF), PowerPoint, RTF, Excel, CSV, Text, HTML, XML, and more.
It uses advanced OCR technology to convert scanned PDF files into real text in editable file formats. This technology supports 23 languages to ensure the correct reading of each word on the scanned document. Just select the language for the document and see the magic as UPDF's OCR technology converts your scanned PDF to real editable text.
UPDF allows five conversions for free! However, to access more, you have to purchase either of their two affordable plans.
4. Organize PDF
Another important feature of UPDF is PDF organizer. From inserting, replacing, deleting, and rotating PDF pages to splitting a PDF into several small PDFs and extracting pages from the PDF, everything is possible with the one and only UPDF.
It also enables you to select Page Range. Several options are available, including selecting odd pages, even pages, portrait pages, landscape pages, or all your PDF pages.
5. Protect PFF
Due to several privacy concerns, password protection has become of utmost importance. UPDF comes with the incredible feature of protecting PDFs using open passwords or protected ones. You can also remove security from a protected password and can check for security properties of the PDF.
6. Share PDF
Want to share your PDF files with your colleagues, friends, or anyone else? UPDF's sharing PDF feature enables you to do so! Using this best PDF editor for Windows 10, you can share your PDF via E-mail. Just open it in the UPDF, edit it the way you want, and click the E-mail icon on the right panel when you are done with editing.
It will direct you to your E-mail window, where you can enter the E-mail address of the person you want to send he PDF file, and the file will be shared as an attachment.
7. Print PDF
UPDF also lets you print the PDF file with lots of customizable setting options ranging from Page size, Orientation, Printer, Page sizing, Handling, and more. Simply click the File icon, hit the Print option, customize the settings according to your requirements and click on "Print".
Besides all these, there is a list of upcoming features too published on the UPDF's official website. The list includes the features of a PDF compressor, electronic signature, form creation, filling, and management.
How Can I Edit a PDF with UPDF on Windows 10?
Wondering how you can edit PDF with UPDF on Windows 10? Hop on the steps listed below to find out!
Step 1: Download and Install UPDF for Windows.
The first step is downloading the best PDF editor for Windows 10. Visit UPDF's official website and download your UPDF for Windows 10 from there. Wait for the setup to download and when it's done, launch it to download the UPDF software.
Step 2: Sign up Using Your Credentials.
The next step is to sign up using your credentials. If you already have a UPDF account, skip this step. On their website, enter your E-mail, and you will receive a code; enter that code in the designated box. Set your name and password, and that's it! You will receive a confirmation mail from the UPDF team shortly.
Step 3: Open PDF File in the UPDF and Get Started!
Open the PDF file you want to edit in UPDF. You can do so in two different ways; Drag and drop a PDF file to open it or import it by hitting the button; "Open File". You can also open a locked PDF. Now you have the access to the navigation toolbar. Use different handy features of UPDF and edit your PDF the way you want.
Final Words
For whatever reason, you are looking for a PDF editor, whether you want to edit PDF, share PDF, convert it, annotate it, protect it, or view it; UPDF for Windows, with all its incredible features, will make everything easier. Give this article a quick read to get to know in detail about this best PDF editor for Windows 10.R
Apart from this , if you want to know about SAP C_FIOAD_2020 PDF Questions then please visit our Tech category