With the help of QuickBooks, you can easily keep track of your finances and stay organized. It allows you to control your bank accounts, keep tabs on your earnings and outgoings, and make budgets. It also comes with a tonne of features that make it a fantastic option for small enterprises. For instance, you may quickly create invoices and track payments. It makes keeping track of your transactions and managing your funds simple.
The banking functions of QuickBooks are one of its best qualities. Any computer with an internet connection can be used to deposit checks, make payments online, and access your money.
Types of QuickBooks Online Banking Error Codes
While getting ready to import your financial transactions into QuickBooks Online, you could occasionally run across banking errors. The causes of errors might vary, but for many of them, the procedures indicated below will help you fix the problem.
There are some common online banking errors codes are as follows:-
103/310 error
106, 168, or 324 error or missing personal/business accounts
108 error
109 error in QuickBooks
155 error
185 error QuickBooks
187 error
Quickbooks error code 192
325 error
9995 error in QuickBooks
Troubleshooting Steps to Resolve Banking Errors in QuickBooks Online
When you encounter this problem, be sure to follow the instructions below:-
Step 1: Access a manual update on your bank account to get rid of banking errors
Go to the Banking option on the left menu.
Choose to deselect the accounts you don't require if you only want to update a handful of your accounts. The picked bank is shown in blue, while the unselected one is shown in grey. In the top right corner, select the Update button.
Enter your Multi-Factor Authentication when requested (MFA).
When the update is finished, a notification will be sent to you. If this works, you need to be aware that both the latest update date and the overall number of transactions have changed.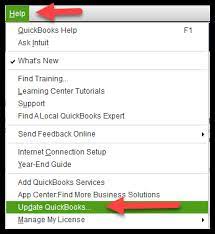 You should also keep in mind the following key points:
Until later in the day or the following morning, some banks and credit card firms do not post transactions for download.
Although you may frequently see the transaction on the bank's website, you can't download it until it posts.
If there are any missing transactions, you must wait at least 24 hours before requesting them from your bank.
Step 2: Verify that you can log into your bank's website through the URL the bank has provided for online banking
It is crucial for you to follow the instructions provided below to make sure you can access your bank through a link used by QuickBooks Online.
Choose Banking in the left menu.
On the Banking screen, click Add account in the top right corner.
Look for your financial institution's name.
Select the bank from the results.
Tap the website link for the bank at the top of the window.
The bank's feed will now be accessible in a new window. Check to see that you can view the account summary, account history, and account details without any banking errors before attempting to manage the accounts through this website.
You must be able to manage the account through the link if you want to support a connection to your bank account. Sometimes a financial institution will have several logins with various account kinds, but they will choose to simply construct one webpage for connection to QuickBooks Online.
Step 3: Please verify that there are absolutely no alterations needed by your bank
The next step in troubleshooting, if you were able to successfully access your account in the previous phase, is to look for a text, configuration, or alert from your bank that will let you know that something isn't working properly.
This warning may occasionally inform you that you need to update your password or that the bank has enabled new security features that must be activated before you can continue.
Read More - Get your multiple IT services in Town
Conclusion
You need to have fixed the QuickBooks banking errors by now. If you're having trouble, consider contacting QuickBooks experts at the QuickBooks Technical Help Number.