Last Updated on March 16, 2023 by Tabraiz
Authentic Native American jewelry, art & craft are more than just decorative items. Each item is a work of art, crafted with the talent and vision of a person who has put in the effort to study the trade. Design and style convey the range of an artist's vision. And, if you've purchased handcrafted jewelry or other crafts, you'll want to take the most tender care of your new treasure.
So, follow the maintenance instructions below to keep your one-of-a-kind Authentic Native American Jewelry and craftwork strong and sparkling for years to come!
Taking Care of your Authentic Native American Jewelry
Authentic Native American jewelry is not just an ornament to make your look go wow. It represents the culture and history of Navajo artists. Therefore, it becomes vital to take good care of them. Here, in this section, you will learn how to take care of different authentic Navajo jewelry pieces.
Sterling Silver Jewelry Care
Sterling silver is most likely the most prevalent metal in contemporary Native American jewelry. To remove tarnish from silver jewelry, clean and store them properly. Silver cleaning solutions should not be used on them since they might harm or discolor the stones.
Native American sterling silver is frequently oxidized in certain areas to give a distinctive contrast. Harsh chemicals and cleaning solutions can wreck this look. If necessary, polish it with a silver or soft, non-abrasive cloth. If you are not wearing your sterling silver jewelry for an extended period, keep it in a sealed plastic bag to avoid air or moisture damage. To keep the pattern intact on items that have been intentionally oxidized, puncture an air hole in the bag.
Turquoise Jewelry Care
Because natural turquoise is a porous stone, exercise caution while caring for and cleaning vintage Native American jewelry.
Extreme temperatures, perfumes, cosmetics, grease, oils, or other harsh substances that may discolor the stone should be avoided.
Usually, we have questions like can you wear turquoise in the shower? The answer is no. Remove jewelry before swimming, bathing, gardening, showering, housework, or engaging in vigorous activity. Avoid immersing turquoise in water using industrial jewelry, ultrasonic cleaners, chemicals, or even soap.
Further, the answer to how to clean turquoise jewelry is to clean the turquoise using a polishing cloth. By this, we can say that you can wear turquoise every day but take the proper care of it.
Jewelry With Inlay
Inlay jewelry is produced with stones bonded in place instead of usually attached with metal clamps or other hardware. Various patterns are formed by drilling holes that are precisely the shape and size of the stones, allowing them to fit flawlessly.
Native American jewelry has inlay components. Because the stones in inlay jewelry are not as secure, the piece is more delicate and must be handled cautiously. Drop, scrape, or bend your inlay jewelry to avoid the stones becoming loose and falling out of their placements. A polishing cloth should be used to cleanse this Native American authentic jewelry.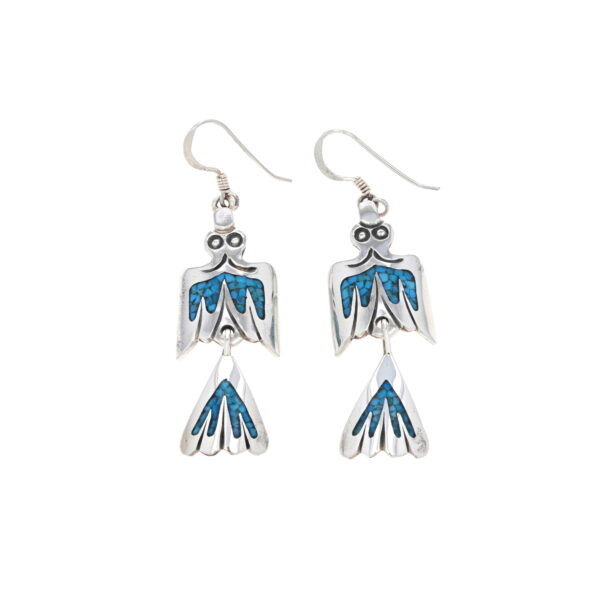 Buy Now at $79.00
Buy Now at $70.00
Apart from Navajo turquoise jewelry, sterling silver jewelery, or inlay jewelery, we have other Navajo items that need proper care. So, in the coming sections, we will read about them.
Taking Care of Other Native American Crafts
Figurines & Pottery
A pot or storyteller figure is a highly sought-after style of Pueblo art that requires specific care to keep it at its best. To begin, never expose your handcrafted pottery to water or moisture. Using water to clean it might harm the paint and finish. Most pottery is intended for display and should not be utilized for regular work. However, micaceous pottery can be used for cooking.
Rugs
Authentic Native American carpets are precious pieces of art that will survive centuries when displayed and handled like fine art. Never puncture the rug or hang it with nails or hooks. Avoid exposing your rug to direct sunlight to keep the natural dyes from fading or changing hues. We also advise against using authentic Navajo rugs as floor rugs.
To clean, use a handheld vacuum attachment to remove dust from your rug, and flip it every 90 days to enable the wool to breathe. These measures will assist in preserving the rug's color and keep insects at bay. Use no cleaning products or chemicals on your rug. This can cause the colors to bleed and the wool to shrink, irreversibly to destroy your weaving.
If your rug requires a thorough cleaning, take it to a specialist who specializes in cleaning Navajo rugs, Persian carpets, or Oriental rugs. Never fold your rug while storing it. Rather, roll it up and store it in an airtight plastic bag or container. To keep moths away, use cedar chips behind or beneath the carpeting.
Baskets
Native American baskets of natural fibers should not be exposed to dampness, direct sunshine, or temperature or humidity variations. To clean, use a feather duster or a camel or sable hair brush to dust often. Never vacuum or use cleaning agents or chemicals on your handcrafted Native American basket.
If your basket has to be repaired, we recommend you take it to a specialist specializing in restoring natural fiber baskets. A basket composed of organic materials may occasionally attract mold or fungus.
Further, we urge that you take these baskets to a professional for early care and repair. If there is dust in your basket weaving, you shall make it clean with the help of a professional.
Carvings
Native American carvings, such as Zuni fetishes, are fragile pieces of art that need cautious handling. Avoid exhibiting them in full sunlight or exposing them to high temperatures, climatic variations, and humidity changes. Also, do not utilize water or chemical cleansers to cleanse your carvings. This is because many sculptures are constructed of porous materials that will be destroyed or discolored if exposed to chemicals or water.
To clean, use a soft, dry towel or a paintbrush made of camel or sable hair. Besides, handle carvings with clean hands at all times, as natural oils and other substances might alter the finish. Carvings with gemstone detailing should be cautiously handled since they are easily fractured or chipped.
Flutes
Like Navajo turquoise jewelry, handcrafted native American flutes are fragile and sensitive to changes in environment and temperature. They may fracture, disfigure, or split along the seams if exposed to excessive heat, cold, or humidity. When not in usage, keep your flute in a cloth sleeve or inside a flute case out of natural sunlight and out of heating/air conditioning vents.
Never clean your flute with chemicals. We recommend oiling the instrument with nontoxic mineral oil once a month to maintain tone, depending on the environment and how frequently you play your flute.
Wearing lip balm, lip gloss, or lipstick while playing might harm the mouthpiece or taint the flute. Do not chew gum or eat anything right before playing. Drops of condensation may accumulate between the "bird" and the "nest" on the flute body if played for a prolonged time. This causes the timber of the flute to become muffled or to stop resonating entirely.
Blow the water out of the little area between the "bird" and the flute to remove moisture from under the flute's "bird." After playing your flute, remove the "bird" and clean the bottom and sound holes. Wipe away any leftover moisture with a soft, non-abrasive cloth, shake off any extra moisture, and thoroughly dry the flute before storage.
Final Words
These are vital tips to maintain your Authentic Native American jewelry and crafts. By following these directions, you can make your Navajo jewelry shine.
About the Author
Navajo Arts And Crafts Enterprise
Owned and operated by the Navajo Nation in Window Rock, Arizona. NACE is one of the oldest tribal enterprises of the Navajo Nation, providing unique handcrafted Navajo jewelry, hand-woven Navajo rugs, boutique items, Pendleton products, the latest in Western clothing, Horned Moon Apparel, and many more. Recognized for such unique handcrafted Navajo jewelry, Navajo Arts And Crafts Enterprise are adding new store location in Arizona at Cameron, Kayenta, Chinle, and National Monument and expanded to New Mexico in Alamo and Shiprock.
Apart from this, if you want to know about the Value of Your Jewelry Designs then please visit our Fashion category