Last Updated on March 9, 2023 by Tabraiz
Beet root is a strange vegetable. It most definitely lies in the love/hate spectrum, depending on who you ask. I thought it would make sense to mention my relationship with the brassica family member because it plays a huge role in my cooking. These sweet and earthy beetroots are truly excellent in dishes and balance out salty and crispy textures.
Beet root, or beet as it is known, is a root vegetable grown for over 3,000 years. It comes from the same family as spinach and chard. Beetroot is available all year round and can be bought fresh or canned. The root comprises several concentric layers of different colors, which is why it can be used to make natural dyes. They are high in antioxidants, fiber, iron, vitamin C, and potassium — and have even been linked to lower blood pressure levels.
This article will suggest east-to-make beetroot dishes that will make you develop a love for this carrot cousin! Not only are these dishes delicious, but they also take advantage of the many health benefits that beetroot has to offer, such as being a good source of dietary nitrates, betalains, and antioxidants. So give them a try!
Beetroot Smoothie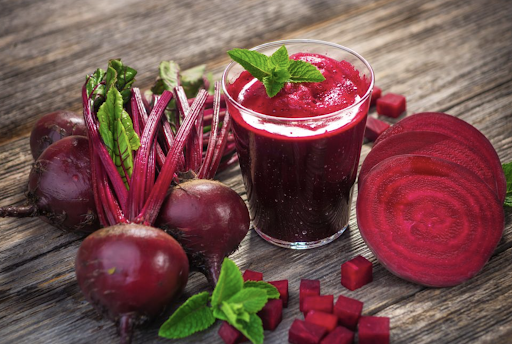 This is a great snack for beetroot addicts. This blended smoothie is with almond milk, orange juice, and banana, making it creamy and delicious. This tastes like dessert but is healthy enough for breakfast or a lunch meal. It's also easy to make and requires only a few ingredients. You can also enjoy this treat after a workout to boost your energy levels.
Vegan Beetroot Burger
These beetroot burgers are vegan and gluten-free, making them suitable for most people. The recipe is also very simple to make, so you don't have to worry about any complicated cooking techniques or techniques that might take up too much time.
All you need to do is prepare the ingredients (walnuts, oats, tamari, white beans, spices) and mix them in a bowl. Then form patties with your hands and fry them in oil until they turn brown on both sides. You can serve these tasty burgers with your favorite toppings, such as lettuce, onions, tomatoes, ketchup, or mustard sauce.
Beetroot and Goat Cheese Stuffed Chicken
There is nothing better than a warm and comforting meal on a cold winter night. Beetroot and Goat Cheese Stuffed Chicken is a dish that combines the sweet and earthy flavor of beetroot with the tangy and creamy flavor of goat cheese. It's a simple yet elegant dish perfect for a special occasion or a casual dinner.
To make the dish, you'll need first to roast some beetroot until tender, then finely chop them. Then you will need to cut a pocket into chicken breasts and stuff it with a mixture of chopped beetroot, crumbled goat cheese, and herbs of your choice.
Once the chicken is stuffed, it can be seasoned with salt, pepper, and other seasonings of your choice, then it can be baked in the oven until the chicken is cooked through and the filling is hot. The finished dish can be garnished with chopped herbs or crumbled goat cheese.
This dish can be served as a main course, with a side of roasted vegetables or a salad. It can also be sliced and served on a bed of greens for a salad. This recipe is a delicious way to incorporate beetroot into your diet and adds a unique and delicious twist to traditional chicken dishes.
Beetroot Hummus
Beetroot hummus is a variation of the traditional Middle Eastern dip made from chickpeas, also known as "hummus bi tahini." It is made by incorporating cooked, peeled, and pureed beetroot into the classic hummus recipe, which typically includes chickpeas, tahini, lemon juice, garlic, and olive oil. The result is a dip that has a vibrant pink color and a unique sweet and earthy flavor that complements the traditional hummus taste.
Beetroot hummus can be served with pita bread, crackers, or veggies and can also be used as a spread in sandwiches or as a topping for grilled meats or fish. It's a perfect dish for parties, picnics, or as an addition to your daily meals.
Beetroot and Feta Risotto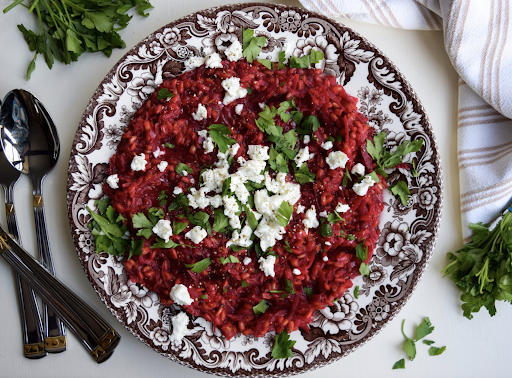 This is a great recipe for using leftover risotto. If you don't have any, you can make it fresh or use arborio rice. The beetroot is cooked in chicken stock first to soften it before being added to the risotto. You can serve this dish as a starter or as a main course with some grilled fish or meat on the side.
Takeaway
The best type of food to incorporate into your diet is the one that you enjoy the most. Try adding beetroot dishes to your menu if you haven't already. It is delicious, versatile, and super healthy. It is low in calories, full of nutrients, and can be used as a great replacement for higher-calorie food. Why wouldn't you love beetroot? You may be surprised at how much you like them *winks*.
Apart from this, if you want to know about An Overview Of Stew Minecraft then please visit our Food category